Protecting Jay Leno's Garage
Find out why Jay Leno chose a March Networks video solution to secure his car collection.
Everywhere you turn in Jay Leno's garage, you'll see a vehicle that would make any car enthusiast weak in the knees.
Gleaming and impeccably restored, the cars in Leno's 200+ personal collection include a stunning volcano yellow 2015 McLaren P1, valued at close to $2 million; a unique 1963 Chrysler Turbine designed to run on vegetable oil or any combustible fuel; and an iconic 1963 Jaguar XK-E, considered to be one of the top sports cars of that decade and one of the most beautiful cars of all time.
Other cars in the collection hold sentimental value for Leno, like the `55 Buick he bought for $350 when he first arrived in California. He lived in the car for a couple of weeks, dated his wife in the car, and drove it to the set of The Tonight Show with Jay Leno the first time he hosted in 1992, and again on his last night more than two decades later.
"We have about 45 cameras installed in the garage, and I can view video from any of them using the March Networks app. It's really terrific, especially for peace of mind."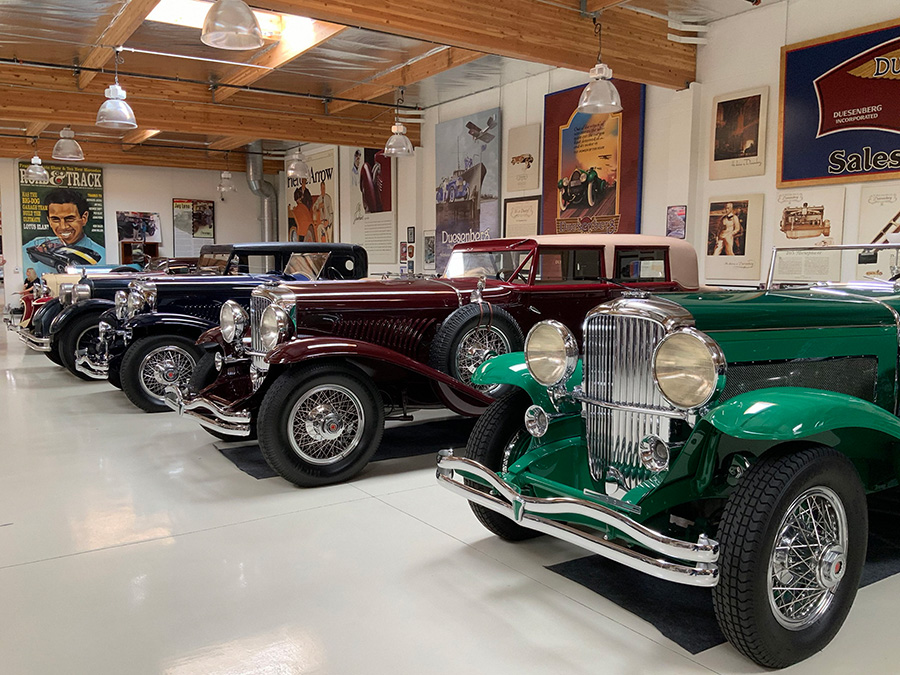 Housed in a large warehouse covering almost two full city blocks in Burbank, California, all the vehicles in Leno's garage are gassed up, charged and ready to drive. The sprawling facility also includes a busy restoration workshop, and serves as the set for Leno's popular CNBC show Jay Leno's Garage. 
24/7 onsite security and surveillance
To protect the garage and his vehicle collection — currently valued at more than $50 million — Leno and his team rely on a combination of 24/7 onsite security patrols, perimeter security, access control and constant video surveillance and monitoring.
"These are my most valuable objects, so obviously I want to protect them. And the best way to do that is with sophisticated video surveillance and recording," said Leno. "Our monitoring company uses our video system to keep a watch on the building 24 hours a day, plus we have gated entrances and all of the other security precautions, so that makes you feel secure."
In early 2019, Leno chose a March Networks video solution to replace an older system fast approaching its end of life. He was amazed by the vastly improved video quality the March Networks system provided.
'The difference was night and day'
"I've had cameras here for a long time, and like a lot of things, you just get used to them. I thought everybody. moved. like. this," explained Leno, laughing and moving his arms like a robot to emphasize the point. "I thought that's just the way surveillance cameras were. Then I called March Networks and said 'Show me the latest equipment.' All of a sudden, people on video were walking at regular speed, and I could actually see what was in someone's hand, or if a guy's got a moustache. The difference was night and day."
The March Networks solution deployed at Jay Leno's Garage includes 9000 Series IP Recorders supporting existing cameras, new March Networks dome and PTZ IP cameras, and models with 360° and 180° field of views. Authorized staff are able to view live or recorded video with easy-to-use March Networks Command Client software, while Leno's monitoring company connects to the system remotely using Command Enterprise Software. Local law enforcement can also access the system remotely if needed.
Most recently, Leno decided to take advantage of the March Networks Insight service so his team won't need to spend time on daily system maintenance and optimization. With Insight, experienced March Networks staff take care of all system and device asset management, software updates, diagnostics and other tasks working from the company's secure Network Operations Center. If a potential issue is detected with a camera or video network the March Networks team will solve it remotely or issue a service ticket to Leno's certified provider for immediate onsite service. Insight also delivers optional field of view obstruction reporting and can even provide third-party device health monitoring via SNMP scanning tools.
Viewing video surveillance remotely
One of the system features Leno appreciates the most is his March Networks Command Mobile app, which enables him to check in on the garage from any remote location.
"Being a comedian, I'm on the road a good deal, so it's great to be able to pick up my iPad and see what's going on when I'm away. Even though we have onsite security, I like to be able to check in," said Leno. "We have about 45 cameras installed in the garage, and I can view video from any of them using the March Networks app. It's really terrific, especially for peace of mind. If there's an earthquake, for example, I can just check in and see if anything fell or broke. It's definitely the feature I use the most."
He also likes the PTZ auto tracking offered by the March Networks ME3 Pendant IR PTZ 40X camera. 
"The auto tracking is a unique feature I wasn't aware of until I put these new cameras in. The idea that someone can come through the front door and the March Networks camera will automatically follow them no matter where they go is fantastic and very convenient."
After years spent acquiring and carefully restoring vehicles, Leno's collection is today among the most impressive — and envied — in the world. Keeping the collection well protected demands a reliable video system most of all, and on that front Leno is well satisfied with his March Networks solution.
"I'm not a high tech person. Old technology is sort of my thing. So the fact that my March Networks system works reliably is all I ask in the end. I haven't had it go down or black out. I never have to say 'Oh, the cameras are down today. Call those people! Call those people and see why the cameras are down!' I haven't had any of that. In fact, it's actually been quite good."