A hassle-free video solution
Enhance convenience store security without the burden of purchasing and maintaining your own video server. With Searchlight for Retail as a service, you can access video surveillance of all of your stores and receive custom reports that analyze important security and operational issues. Because the service is hosted and maintained by March Networks Managed Services team, our staff takes care of day-to-day system maintenance and administration, leaving you free to focus on your c-store business.
Locate suspect transactions
Dramatically reduce losses from discount abuse and employee theft with Searchlight's transaction reports, which let you quickly locate suspicious activity such as multiple voids or discounts by the same employee. Match receipts with video for comprehensive oversight of all of your POS systems.
Monitor your operations
Keep an eye on your convenience store operations with Searchlight's operational audits reports, which show you how clean locations are, if shelves are well-stocked, if employees are dressed properly and if procedures are being followed.
Conveniently manage operational issues remotely
Save time and money by monitoring your business remotely with the Command Mobile smartphone app. Free from the App Store and Google Play, the app provides convenient access to live and recorded surveillance video from your personal smartphone or tablet. Conveniently manage operational issues, monitor location cleanliness, review signage and displays – all from your mobile device.
Understand your customers
Measure conversion rates, customer wait times and other customer service metrics with Searchlight's integrated analytics. Easy-to-read dashboards make it simple to analyze, compare and share critical business information.
See what's going on –
without going in!
With March Networks, you can receive visual alerts in real-time about your business. The March Networks Alert Communication Tool (ACT) delivers real-time notifications via email or instant message along with an associated video snapshot. In retail environments, this can help with coordinating curbside pickup orders. Employees can use their cellphone to receive notifications, zoom in on the image of the car once a customer pulls into the parking lot, determine whose order it is, and deliver accordingly.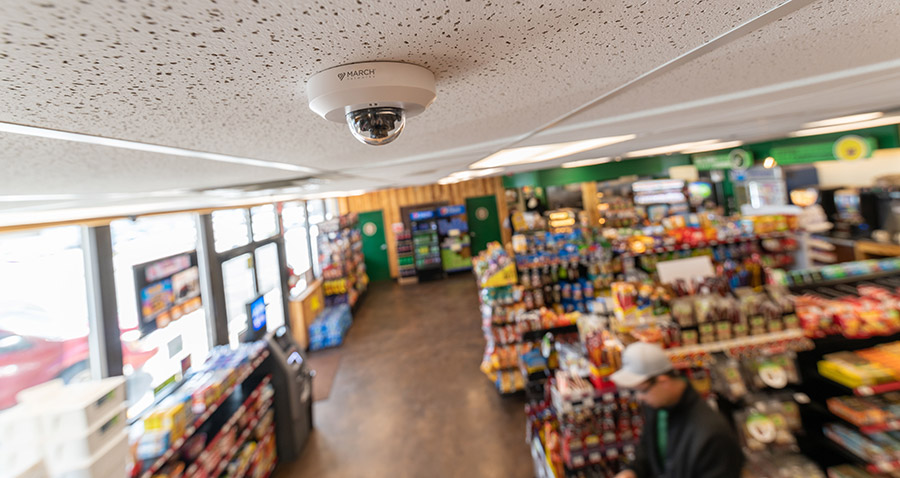 Case Study
:

Yesway Chooses March Networks Searchlight for Retail

One of the fastest-growing c-store chains in America, Yesway, selected March Networks as its video surveillance partner to meet its scalability requirements. March Networks' ability to combine its video surveillance, POS transaction data and analytics together in one platform with its Searchlight for Retail software is what Yesway needed to accommodate its future growth.
Why March Networks?
More than 300 retail organizations use our video solutions.
2 minutes instead of hours to detect
theft and fraud
100% future-proof with
backwards compatibility
10+ Years of reliable product life
Get Started Today
Contact us for a free no-obligation demonstration of Searchlight for Retail as a service.