Growth Opportunity
Credit Union taps new partners to implement best-in-class video solution
Providing economic opportunities for all has been the mission of Self-Help Credit Union (Self-Help) since it started nearly 40 years ago in Durham, North Carolina.
The member-owned organization began in 1980 with a plan to help textile millworkers gain ownership of small factories that were facing closure. The credit union was established in 1984, and its first capital was just $77, raised through a bake sale. Since then, Self-Help has grown into a family of credit unions, a non-profit loan fund and a policy advocacy organization with more than 150,000 members and branches across seven U.S. states.
"Right away, we found a $100 counting error. And we've found other errors too."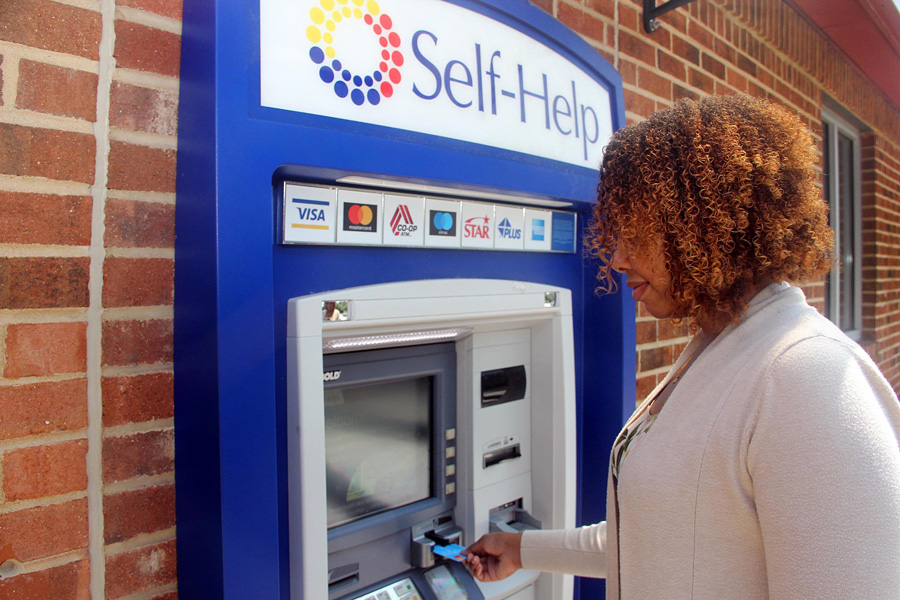 This growth, fueled in part by mergers and acquisitions, is what prompted Self-Help to consider a larger investment in its security in 2018.
"We are growing so fast that we needed a national security provider," explained Dan Hittinger, the credit union's ATM & Facilities Manager. According to Hittinger, Self-Help was using several different security providers and had a patchwork of equipment from various manufacturers. He knew they needed to standardize on one system, so he turned to Convergint Technologies for help.
Easy to use products
Tony Craig, Convergint Account Executive, said several Self-Help locations had successfully used March Networks' previous generation recorders. Convergint recommended upgrading these units and moving to March Networks in other Self-Help retail branches.
"I've always been a fan of March Networks because its products are very easy to use," said Craig.
With Convergint's help, Hittinger undertook an ambitious plan to upgrade 28 Self-Help branches in North Carolina, South Carolina, Virginia and Florida in just one year.
The majority of these branches are now equipped with March Networks 16 and 32-channel 8000 Series Hybrid NVRs – powerful, Linux-based recorders supporting both analog and IP video channels. This hybrid capability was ideal, noted Craig, because the credit union also wanted to transition from analog to IP cameras.
"From day one, we said, 'If you're using March Networks NVRs, we want to get you using March Networks IP cameras to show you what you can get out of the full solution,'" Craig said.
One particular cash-counting error that could not be resolved due to poor analog image quality convinced Hittinger it was time to make the switch.
"I could not provide a conclusive answer in that case, but I had an idea moving forward.'"
Sharper images with IP cameras
Hittinger knew that casinos used high-resolution IP cameras over game tables to keep a close eye on bill denominations, so working with Convergint, he began experimenting with March Networks SE2 Series IP cameras at the credit union's teller stations. The IR dome camera gave Hittinger the ability to zoom in and out and remotely adjust the field of view. The camera's two megapixel resolution and High Dynamic Range (HDR) technology also ensured very sharp, well-lit images.
It took some testing with different frame rates to get the right balance between recording and storage, but overall the results have been amazing, Hittinger said.
"Right away, we found a $100 counting error. And we've found other errors too."
Self-Help is also using Oncam Evolution 05 360° cameras, which are fully integrated with the video solution, for more complete coverage inside and outside select branches.
"The 360 cameras are so cool," Hittinger said. "I can provide my branch managers with a clear, enhanced view of what's going on throughout their branches."
The credit union has set up public view monitors in its safe rooms – where cash is counted – and in break rooms, so managers can be aware of branch activity at all times.
Self-Help uses March Networks Command Enterprise Software – advanced system management software that's ideal for distributed video surveillance applications – to manage the entire system. The Command server is located at Self-Help's corporate headquarters in Durham, where Hittinger and his IT network administrator log in daily to keep an eye on branch security.
The credit union's four regional managers also have access to the Command software to view the branches in their territories.
Saving time with Command
"Some of their territories are really spread out, so Command saves them a lot of time and effort," said Hittinger. "They can limit the amount they travel by using Command to see what's happening inside their branches."
Hittinger, too, has found some unique time-saving benefits with Command. When the credit union was designing a new branch, he used the software to share surveillance images of the new layout with managers.
"We were on a conference call, and the regional manager was trying to understand what we were pitching for the new branch design," explained Hittinger. "I brought up the cameras, took a quick snapshot and emailed it over to him. I said 'It looks like this.'  It really helped paint the picture."
As a self-professed "super user" of the system, Hittinger appreciates Command's health monitoring feature, which alerts him to potential issues like a failing hard-drive. The software's motion histograms also help him manage his NVR retention rates.
"With Command, I can see if a camera is picking up unnecessary motion. From there, I can go in and refocus or maybe I need to get with Convergint to figure out another solution."
The motion histograms are also great for helping branch managers locate video, he said.
Combing video with transaction data in Searchlight
Moving forward, Self-Help is exploring March Networks Searchlight for Banking software for even faster video retrieval and insights into its branch operations. Searchlight integrates surveillance video with ATM/teller transaction data and analytics, giving users powerful search and investigation tools that can help fight fraud. The software's business analytics also deliver valuable insights into employee and customer behaviors.
"What I really like about Searchlight is that the video is tied to a transaction," Hittinger said.  "It promises to save us a lot of time.  My desire is to keep offering the best security system and technologies I can, and I feel Searchlight will get us there."
Self-Help's partnership with Convergint Technologies will continue to be instrumental moving forward, he added.
"Convergint is a great partner," said Hittinger. "Their technicians are professional, polite and eager to serve our branch staff, which makes my job easier."
Hittinger also praised March Networks' customer service, which allows him to get the most out of his surveillance system.
"March Networks is awesome to work with. Its sales engineers are one of the reasons I know as much as I do about the system," he laughed. "They always make time for me, even for the simplest of questions.  They have best-in-class products, and best-in-class service, absolutely."