Get Cloud Video Backup with Command Enterprise's Shared Case Management
Filed under: Video Management System, Cloud
The ability to easily share information is key to the success of any investigation, especially in organizations with large fraud or loss prevention departments. Investigators may be dispersed throughout the country, but often need to distribute case notes, images and video clips to various people on their team.
There are many applications that help facilitate remote work, and let you share and edit files within a group.  But as anyone working with surveillance video can tell you, sharing video – especially high-definition (HD) video – can sometimes be tricky.  Because of its size, video takes time to transfer digitally.
For security reasons, many businesses prefer to keep their video evidence in a central location, and therefore may not want to be exporting and transferring files.
It's for these reasons that we've introduced a new, shared case management feature within March Networks Command Enterprise software.
New in Command Release 2.5
Starting with Command Release 2.5, (available on the March Networks Partner Portal) all case management files can be backed up to a central server and shared with other users that have permission to access the Command Enterprise Server (CES).
This means all video clips, notes and images made into case files can be backed up to the cloud, allowing users to access them from any location with an Internet connection. So an investigator in New York can create and save a case file in CES, and then share it with a colleague in California – no exporting or file transfers necessary. As long as the investigator in California has access to the CES, he or she can login and view the case file.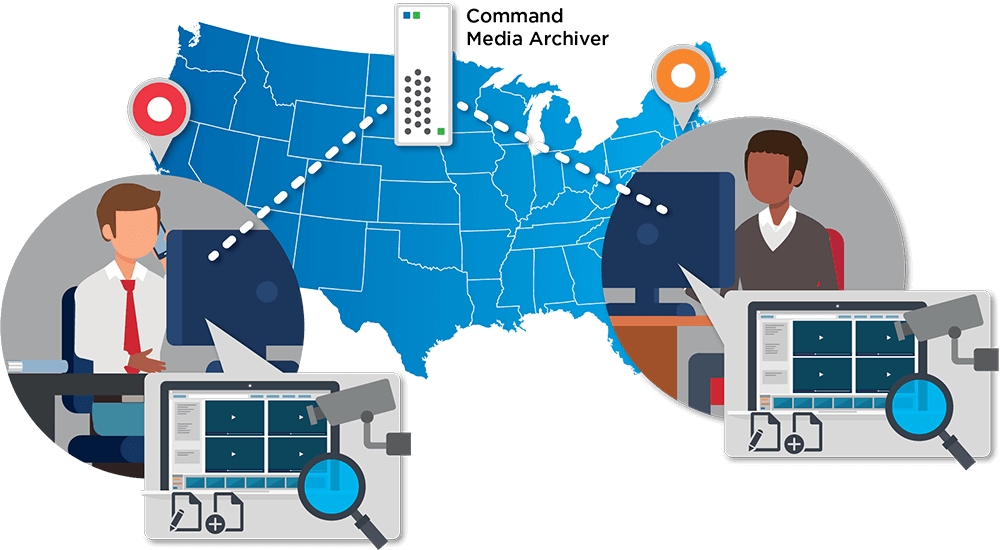 Case files can be kept as long as necessary, assuming server storage space is available. Essentially, this creates a central repository within CES for all case files, which is an incredibly helpful feature for managing large or complex investigations.
How does it work?
When a video file is added to a case in CES, the video is downloaded from the March Networks recorder and saved on the Command Media Archiver. The Archiver collects and stores the case file data, and retains it as long as the case file is retained in Command; so even if the recorder's retention settings purge the video after 7 days (or however long video retention is set for), the clip is still saved in Command as long as it was created and saved as a case file on the Archiver.
Monitor space remaining in Command Client
The amount of video you can store in the Archiver is determined by the storage capacity of the drive you're using for the Archiver. This can be configured to your unique requirements when you install the Archiver.
You can monitor your storage space in Command Client from the client navigation panel's system tree. Space is measured in GB and the system will alert you when the Archiver reaches 90% capacity. It's recommended, however, that you delete old files you're not using, or export and archive files, to always ensure adequate space.
Shared case management is free to anyone using March Networks Command Enterprise and does not require March Networks Searchlight software.
Learn more about the Command Media Archiver (document available for download from our Partner Portal) or download the instructions on using shared case management.