March Networks Introduces New HD Video Recording and Management Solution for Passenger Rail Fleets
OTTAWA, ON –– March Networks®, a global provider of intelligent video solutions, today announced the March Networks RideSafe™ RT Series IP Recorder, a new video recording and management platform designed to help passenger rail operators improve security and incident investigation using integrated high-definition (HD) video and vehicle data.
An enterprise-class IP video recording and management solution with vehicle metadata integration, wireless video and data extraction, and all channel licenses included.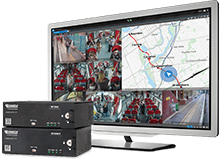 Available in two 20-channel models – the RT20E and the RT20EP with eight PoE ports for vehicles that require integrated camera power – the RideSafe RT Series IP Recorder is ideal for rail fleets ready to transition to scalable, all-IP video capture. It provides operators with sharp megapixel video evidence at a full 30 fps per channel, and time-saving video and data extraction over WiFi or 4G wireless networks.
The recorder complements March Networks' complete video solution for mobile and wayside environments, which also includes mobile IP cameras, user-friendly client software and video systems designed for use in stations and other transit facilities. All of the products integrate seamlessly and can be centrally managed with powerful March Networks Command™ Enterprise video management software. In addition, March Networks mobile and fixed recorders come with all channel licensing included, providing rail operators with a convenient, plug-and-play platform right out of the box.
"March Networks has spent more than a decade designing and delivering high performance, highly reliable video systems to rail and transit operators worldwide," said Réal Barrière, Transit Solutions Product Manager, March Networks. "This new RideSafe RT Series solution delivers all the benefits of our accumulated expertise, as well as the advanced integration and investigation capabilities necessary for successful fleet management."
Continuing the company's commitment to video solutions that enable better operational intelligence and risk mitigation, the March Networks RideSafe™ RT Series delivers innovative search and investigation capabilities through integrations with leading Train Control and Management Systems (TCMS), Passenger Information Systems (PIS), GPS and other peripheral devices.
Rail operators can use the Command software to search for recorded events including emergency brake activation, speed, location and driver-tagged incidents, and review these incidents along with the associated video. The combined video and data enables fleet operators to investigate complaints, liability claims and other events quickly and cost-effectively and resolve disputes with the help of compelling video evidence. They can also use the investigation tool to proactively identify and address potential issues, such as a malfunctioning door, before an incident occurs.
In addition, the recorder is purpose-built for reliable operation in demanding rail environments, incorporating features such as an embedded Linux OS, solid state drives, front panel diagnostic LEDs, an optional battery backup, and real-time system health monitoring. It is also compliant with multiple environmental, electromagnetic (EMC) and shock/vibration regulatory standards, including EN50155.
March Networks, March Networks RideSafe, March Networks Command and the March Networks logo are trademarks of March Networks Corporation. Infinova is a trademark of Infinova Corporation. All other trademarks are the property of their respective owners.
MEDIA INQUIRIES:
Minu Seshasayee
Interprose
+1 425.868.3829
Minu_Seshasayee@interprosepr.com