Keep students and staff safe with these 4 video surveillance features
Filed under: Video Management System
Now that students are back to school, keeping them safe is top priority. This can be particularly challenging lately, given the COVID-19 pandemic. Educational institutions are now grappling with complex health and safety concerns, in addition to regular physical security challenges.
Video surveillance is one tool that can help on both fronts by delivering real-time images of an entire campus, including all entryways and exits, hallways, classrooms and indoor and outdoor facilities. More advanced video systems can also offer real-time alerts on security and compliance violations, so school administrators can quickly stay on top of any issues. Not only can these systems increase safety for students and staff, they can also help schools mitigate risk and liability.
Below, we've outlined some necessary video surveillance features that schools should consider when installing or upgrading their surveillance systems.
Health and safety compliance
As society adjusts to the "new normal," schools need to create an environment that is safe with minimal disruption to the learning experience. Video surveillance systems can help, with health and safety alerts tied to video evidence. March Networks' Health Compliance Solution, for example, delivers real-time alerts about school occupancy, elevated body temperatures, and compliance with health and safety policies.
Using this solution with a third-party thermal camera, a school can tell if a student or staff member has an elevated body temperature. They can also learn if there are too many students in a classroom and then display that occupancy information on in-school digital signage along with pre-populated messages. This can alert students and staff in real time to avoid a particular area on campus. This is possible because the solution integrates with people counting technology and can send visual alerts – like emails and instant messages with video – when a school's occupancy limit has been exceeded. It is important for schools to look at video surveillance solutions like these that take the guesswork out of ensuring the safety of those on their campuses.
Remote viewing capabilities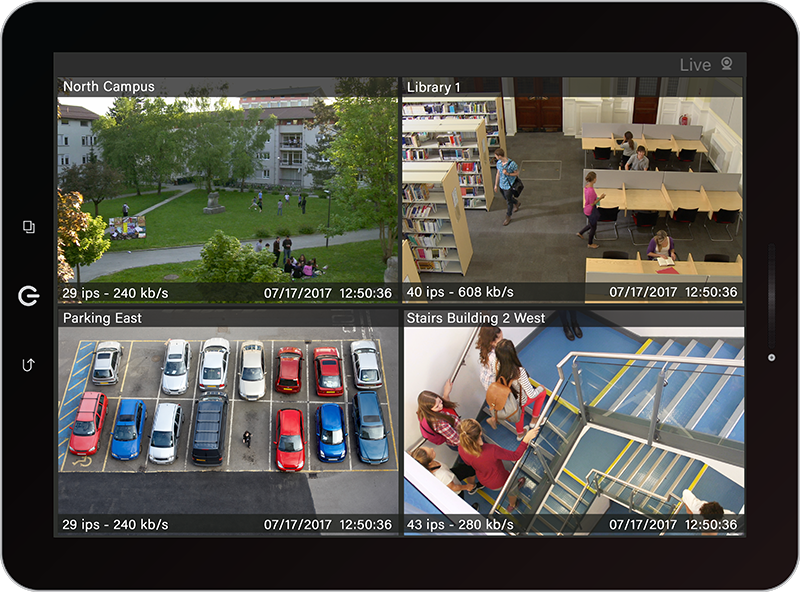 It's important that a school's video surveillance is easily accessible to all authorized staff, whether they are on the campus or not. This ensures that staff can act on incidents in real-time, regardless of their location. With March Networks' Command Mobile smartphone app, schools can view their surveillance video securely from any remote location. Conveniently, the Command Mobile app also allows for PTZ camera control, including the ability to select preset positions. This can help security staff quickly and easily monitor large campuses from their smartphone or tablet.
Additionally, the app's ability to zoom in on live footage can provide law enforcement with critical information in the unfortunate event of a school emergency. Real-time video feeds to smartphones can allow first responders to react and resolve incidents rapidly.
Ease of use
It's important for principals, teachers, administrators, law enforcement and anyone else who is using a school's video surveillance system to do so with ease and efficiency. March Networks' powerful Command video management software is easy to use and install, with a customizable interface so authorized staff see only the information they need to do their job. This means that a principal can have access to only the cameras at his or her school, while a board system administrator can see all cameras at all schools they are responsible for.
Command also allows system administrators to manage all video devices on the network – like DVRs, cameras and encoders – from one central location, making it easy to apply software and firmware updates and manage the entire system with ease.
AI analytics
Principals and school staff are extremely busy, so they don't have time to search through hours of recorded video to find incidents. IP cameras with Artificial Intelligence (AI) security analytics can make the job of locating video evidence much easier and faster. These analytics can also reduce false alarms, allowing staff to focus only on incidents of real concern.
AI analytics can send notifications about zone or perimeter breaches, such as if there is forced entry into the school or trespassing on the property. These AI-powered devices also have the ability to detect other suspicious incidents like idling vehicles, abandoned objects or even possible theft – such as when a valuable object is removed from a school display case.
Beyond improving school safety, these cameras can also save time and resources for schools, since they can quickly react to potential issues based on more accurate alerts.
To learn more about March Networks' video solution for safety and security at K-12 schools, colleges and other educational institutions, click here.